Experience the Best in Distance Education
Jewelry repair, watch repair and clock repair are fascinating trades that go hand-in-hand, offering good income, job satisfaction, and endless career opportunities. You can become an expert in these fields when there is a true master to guide you every step of the way; through our school, we will be that master for you. Our goal is to help you succeed in building a firm foundation of skills and knowledge through our video-guided distance learning programs. Take a look at our brochure!
A word from our founder...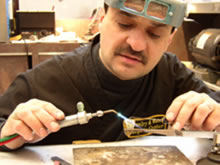 "My name is Oleg Beznosov, welcome to the Internet gateway of my school. I hope you find this site interesting and informative, but should you have any further questions please send us an e-mail or give us a call. Since you may be wondering why I am qualified to teach you how to repair watches, how to repair clocks and how to fix jewelry I will take a moment to tell you a little bit about myself.
"For over 35 years, I have been professionally repairing all types of jewelry and time keeping devices. I completed my training in Europe and spent a number of years working side by side with some extremely talented craftsmen before I decided to move to the U.S. with my family. My education and experience served me well, and soon I was repairing jewelry and watches for both privately owned jewelry stores and major chains. For the past 17 years I have owned and operated the Jewelry and Watch Repair Center in the thriving Connecticut shopping area of Buckland Hills, where my staff and I meet the needs of hundreds of customers each week.
"I started the Jewelry and Watch Repair School of New England because I wanted to share my knowledge of jewelry repair and watch repair with others interested in fine craftsmanship. My courses will give you a solid start for a fun hobby or a rewarding career by teaching you how to perform the most frequently demanded jobs in the retail jewelry repair, watch repair, and clock repair industries today. This field has fascinated me since I started, and I am happy for the opportunity to share my knowledge and experience with you."
At the Jewelry and Watch Repair School of New England we offer our students a complete package at a competitive price. All of our courses come complete with the tools and materials you need to start working right away!
We are members of the Society of North American Goldsmiths, the National Association of Watch and Clock Collectors, and the International Vocational Education and Training Association, and we are approved by the State of Connecticut Commissioner of Higher Education.
| | |
| --- | --- |
| International Vocational Education and Training Association Certificate | State of Connecticut Commissioner of Higher Education Certificate |